Home // First Team Fixtures & Results
Belper Town vs Matlock Town FC
Attendance:
888
Referee:
Sam Wesson (Leicester)
Date:
10 April 2023
Belper Town
1
FT
Raygar Stadium
Northern Premier League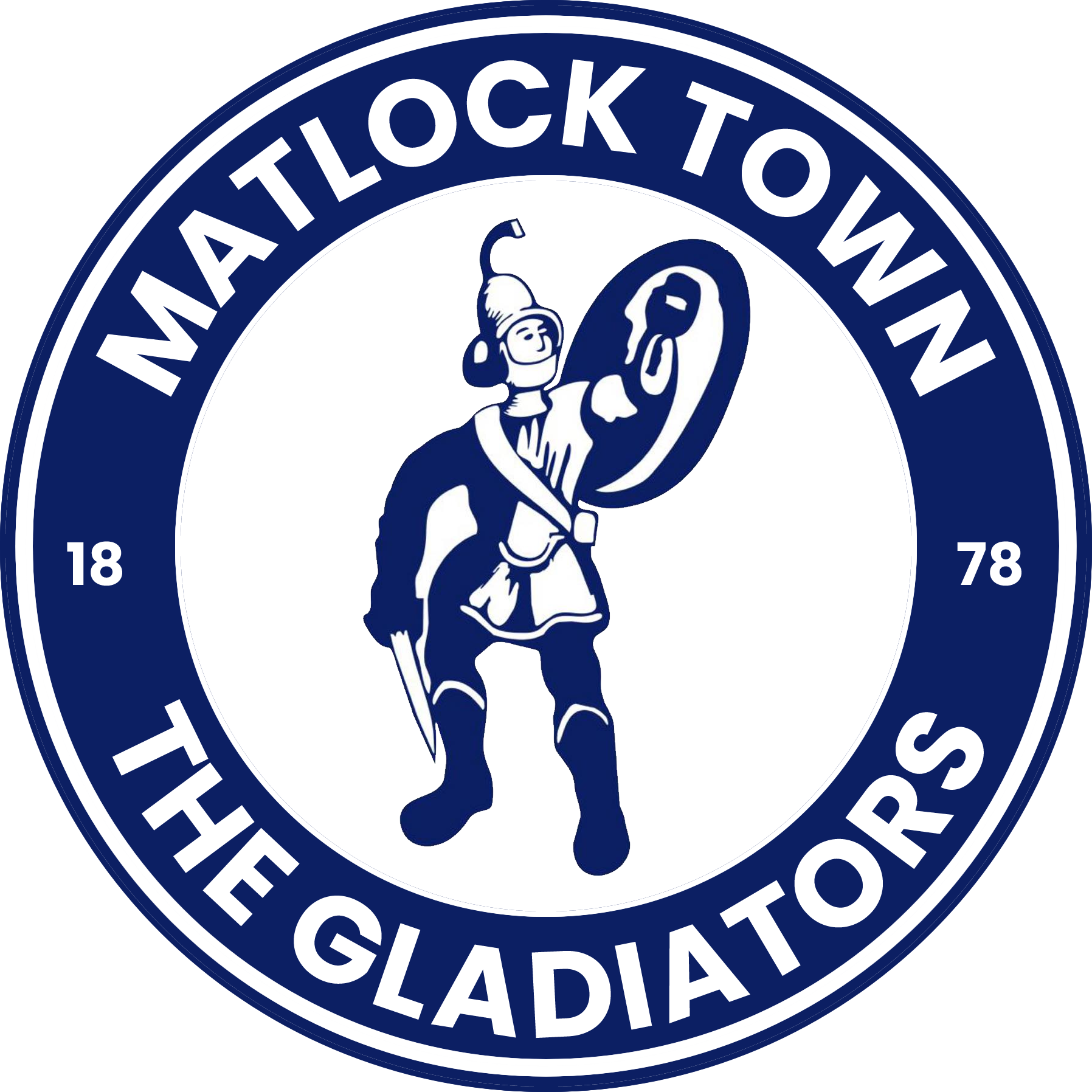 Matlock Town FC
1
Match Report
BELPER TOWN 1-1 MATLOCK TOWN
Matlock's play-off hopes took a nosedive when Ethan Cartwright was sent off in the 22nd minute of the A6 derby at the Raygar Stadium on Easter Monday.
The Gladiators were deservedly a goal to the good thanks to Reece Styche when Cartwright brought down James Oliver on the left, referee Sam Wesson hurriedly brandishing the red card to leave the Gladiators a man down for the rest of the contest.
In all probability, had it remained eleven versus eleven Matlock would have won the game, but even then, the understrength Gladiators always looked the more likely winners against their already relegated hosts.
Cartwright, who had a loan spell with the Nailers earlier in the season, was moved from midfield to right back with Jamie Sharman and Dan Bradley occupying the central defensive berths and Robbie McNicholas at left back in the continuing absence of first choice central defensive duo Adam Yates and Ioan Evans. Young Archie White was missing through a pre booked holiday so Saul Milovanovic was back in midfield, this being the one change to the starting eleven that had beaten Atherton on Saturday.
Conditions were far from ideal with a swirling wind spoiling the game, Matlock playing with the elements in the opening half, but in essence, having the advantage of the wind benefitted neither side.
Milovanovic skied a shot high over the bar early on before Karl Demidh was off target in the 9th minute when well placed. Matlock had made the better start and made it pay on 15 minutes when following a long clearance from goalkeeper Saul Deeney, STYCHE nipped in to lift a great finish over the advancing Tom Jackson to give the Gladiators the lead.
But that proved to be the high spot of their afternoon.
Belper responded with Brodie Litchfield firing wide in the 20th minute before from the Matlock viewpoint, disaster struck when Cartwright pulled down Oliver. For the third time in four games this season, Mr Wesson showed a Gladiator a red card and it turned out to be double jeopardy for them as CURTIS BURROWS slammed the free kick past Deeney to level matters.
Matlock had lost their earlier drive but Belper failed to capitalise and a rather sterile first half ended without further ado.
Deeney held a strike from Jacob Gratton in the first meaningful attack of the second half but there was an opportunity for Alex Duhameau in the 51st minute, the youngster failing to add to his first Matlock goal two days earlier by shooting wide after good work from Demidh.
Then Jackson gathered a Byrne free kick before Belper had two chances in quick succession, Matlock defending resolutely to deflect Oliver's shot over the bar and Burrows firing too high from ten yards.
Clear cut chances though were at a premium although Jackson did well to block a Styche shot and when former Matlock midfielder James Tague entered the fray in a forward role, visiting captain Dan Bradley produced a magnificent and timely block to avert any danger.
Styche might have won the two extra points but he was always stretching to convert Byrne's low cross as he diverted the ball over the bar.
So it finished all square and while Matlock's play-off hopes took a significant jolt, they still have a sniff of a chance but it will probably mean beating Bamber Bridge and Marine in their final two matches of the campaign and hope that results elsewhere work in their favour.
888 came through the gate with at least half that number backing the Gladiators who again had tremendous vocal support from their younger supporters.
It was plain to see why Belper have struggled for much of the season with a lack of a cutting edge even with the extra man. Matlock might see this as a lost opportunity ,but after the challenges they have faced this season, to still be in there fighting at the penultimate game of the season deserves credit.
BELPER TOWN: 1 Tom Jackson 2 Ben Rhodes 3 Ben Algar 4 Curtis Burrows 5 Tom Wilson 6 Ben Middleton 7 Joe Nywahema(15 Rio Molyneaux 80) 8 Jacob Gratton 9 Jerome Greaves (12 James Tague 67) 10 Brodie Litchfield 11 James Oliver (17 Harry Middleton 67) Other subs: 14 Avery 16 Reaney
MATLOCK TOWN: 1 Saul Deeney 2 Jamie Sharman 3 Robbie McNicholas 4 Saul Milovanovic 5 Alex Duhameau 6 Dan Bradley 7 Alex Byrne 8 Ethan Cartwright 9 Reece Styche 10 Karl Demidh 16 Harry Wakefield 83) 11 John Johnston (14 Brad Abbott 80) Other subs: 12 Bradley Wells 15 Sam Hooper 19 Jim Pollard
REFEREE: Sam Wesson (Leicester) ATTENDANCE: 888 BEST GLADIATOR: Dan Bradley