Home // First Team Fixtures & Results
Chorley FC vs Matlock Town FC
Attendance:
229
Referee:
Stephen Copeland (Wallasey)
Date:
17 December 2019
Chorley FC
2
FT
Victory Park
FA Trophy
Matlock win 4-3 on penalties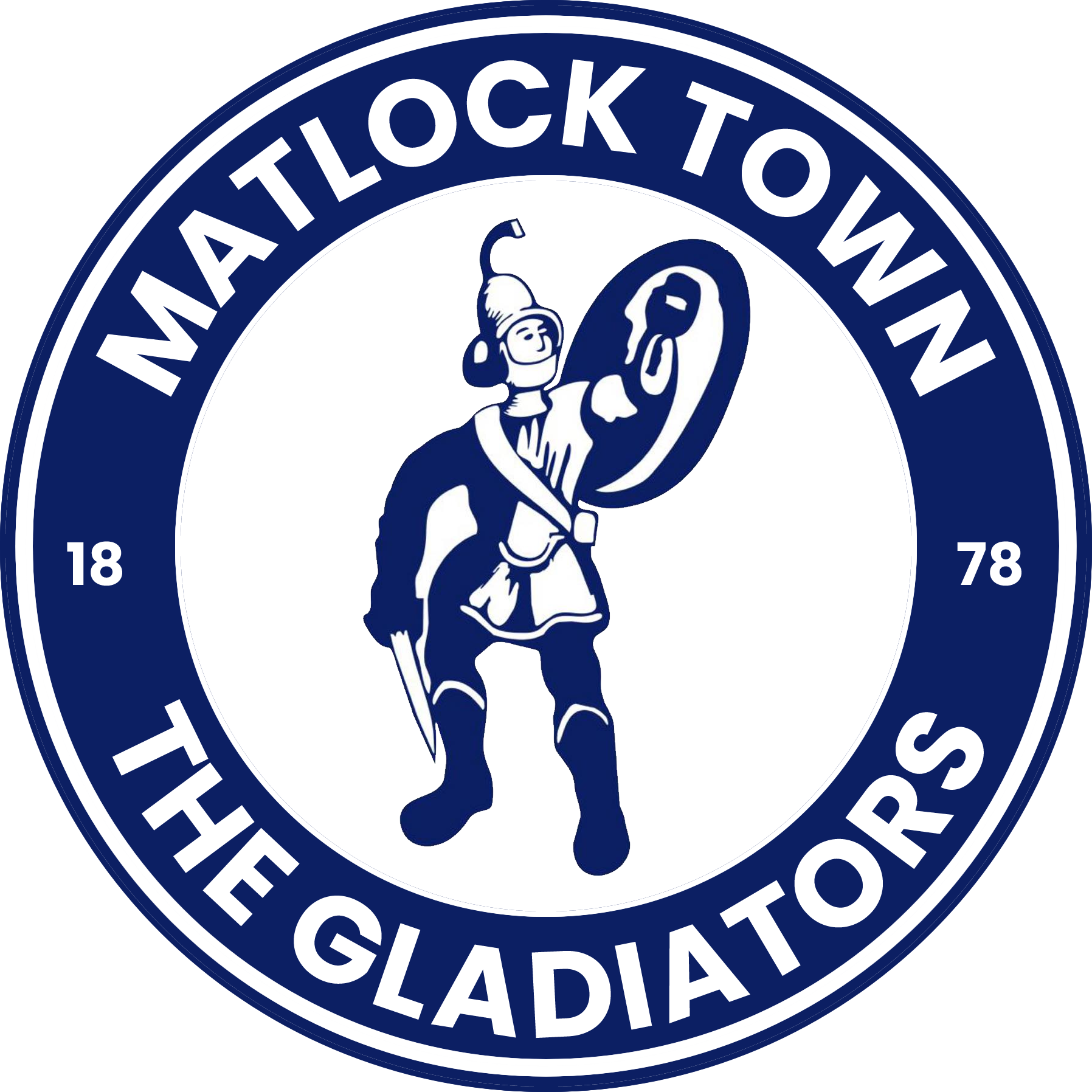 Matlock Town FC
2
Match Report
Chorley 2-2 Matlock Town (after extra time)
Matlock Town win 4-3 on penalties
What a game, what a night!
Matlock Town completed the job they looked like doing on Saturday after a tense penalty shoot out and the feeling was that probably justice was done.
They were the better side against their Conference National opponents at the Proctor Cars Stadium in the first game, and at times in the replay they had Chorley chasing shadows in a performance which was a mixture of character, determination and no little flair.
Down to fourteen fit players, and only able to name three substitutes, it was a night to remember for Gladiators fans.
They twice held the lead as Chib Chilaka and Marcus Marshall found the onion bag, Chorley though found two equalisers through Marcus Carver and an extra time last gasp penalty from Chris Holroyd.
It looked as if Chorley might get out of jail for a second time in four days but Steve Kittrick's troops kept their composure in the shoot out.
There was tons of drama, the small band of Matlock fans who made the journey to Victory Park went through a host of differing emotions, but eventually it turned out alright in the end and now they can prepare for a long trip to Eastleigh in the next round.
Chorley began on the front foot as full back Matt Challoner was prominent in the Magpies'breaks down the right. Skipper Jake Cottrell fired a 5th minute opportunity over the bar but Matlock found their feet and Chorley were at sixes and sevens at the back as Chilaka burst into the box. It needed a perfectly timed tackle from Courtney Meppen-Walters to stop him.
Wallis gathered a tame effort from Elliot Newby before following a corner on the right Town had three shots charged down before the offside flag denied Chilaka. Shortly afterwards a Jordan Sinnott strike narrowly cleared the bar.
But CHILAKA was all smiles after 16 minutes when a sweet turn past Mark Ross from a great cross by Luke Hinsley ended with a firm strike from the Nigerian to put Matlock in front.
The visitors stood firm as Chorley poured forward but after a timid Josh O'Keefe effort led to a fast Matlock break when the visitors had an extra man, it led to a free kick which Sinnott lifted over the bar.
Chorley hit back on the half hour and as on Saturday, their equaliser was highly fortunate and from a deflection, this time CARVER knowing little about an off target Josh O'Keefe shot which left Matlock goalkeeper Dan Wallis as it ricocheted past him.
An all action half ended with Marshall's great run finishing with a Hinsley strike which was defelected behind and Tomas Poole bringing an unconvincing floundering save from Danny Eccles. For Chorley Cottrell's shot suffered the same fate as Hinsley's had doe minutes earlier.
The second period was devoid of goals but not near misses.
Nteuma Massanka missed the easiest of chances in the 47th minute, shooting over the bar from six yards after Carver's fine run and cross from the left.
But Matlock gained the initiative as O'Keefe got a telling header to Hinsley's cross from the right before Marshall probably chose the wrong option in trying to pass to Chilaka when well placed shortly afterwards.
Luke Dean thought he had notched his first Matlock goal on 63 minutes following fine approach work from substitute Dan Bramall and Poole, his low curling shot being tipped away by Eccles.
Then Wallis excelled, two Newby strikes being blocked and it was soon Eccles again fingertipping Poole's shot around the post at full stretch.
Carver could have given Chorley the lead for the first time in the entire tie with twenty minutes left but Wallis reacted brilliantly to keep out Carver's shot after a determined run from Lewis Dodds. Yet another fantastic save from Wallis denied Newby but Matlock still attacked with pace and imagination, giving as good as they received. As to prove the point, Sinnott and Poole were denied by Eccles with James Tague, with virtually his first few touches ran to pull his shot wide from eighteen yards.
So into extra time when for the opening half, Matlock looked largely weary but still stayed resilient.
Massanka might have done better than slice his shot when well placed while Carver's shot shaved the top of the bar.
Somehow Matlock found extra ounces of energy in the second period and when MARSHALL dived forward to glance home Hinsley's cross in the 110th minute, the upset looked on.
They looked to be holding out until a stray Matlock leg caught Carver for an 120th minute penalty. Wallis saved HOLROYD's initial attempt but the referee ordered a retake due to encroachment and this time Holroyd scored convincingly.
After being so close to victory, Matlock had to lift themselves for the penalty shoot out.
Matlock went first as Marshall and Bramall scored while for Chorley, Carver was superbly denied by Wallis and Massanka found the target. Harris and Dean for Matlock and Meppen-Walters and Alex Newby converted their spot kicks going into the final two. Sinnott lifted his shot over the bar, leaving Holroyd again to be the Mapies saviour.
This time though Chorley's luck ran out as the ball sailed over the bar, there still being a strange delay before the referee indicated Matlock had won through.
There were outstanding performances all over the pitch from Matlock players, this time then the award goes to the whole team. Into the last thirty two they go, and deservedly so!
CHORLEY: 21 Danny Eccles 2 Matt Challoner (7 Alex Newby 81) 12 Mark Ross 6 Courtney Meppen-Walters 16 Lewis Baines 8 Josh O'Keefe (14 Louis Dodds 58) 13 Jake Cottrell (24 Taylor Brickell 112) 18 Ntumba Massanka 9 Marcus Carver 20 Chris Holroyd 11 Elliot Newby Other subs: 4 Andy Teague 17 Nortei Nortey 3 Adam Blakeman 23 Declan Baldwin.
MATLOCK TOWN: 1 Dan Wallis 2 Spencer Harris 3 Ben Gordon 4 Luke Dean 5 Bailey Gooda 6 Dwayne Wiley 7 Luke Hinsley 8 Jordan Sinnott 9 Chib Chilaka (12 Dan Bramall 60) 10 Marcus Marshall 11 Tomas Poole (14 James Tague 81) Other sub: 15 Ben Marshall
REFEREE: Stephen Copeland (Wallasey) ATTENDANCE: 229 BEST GLADIATORS: Whole Team