Home // First Team Fixtures & Results
Marine AFC vs Matlock Town FC
Attendance:
1606
Referee:
Nathaniel Cox (Blackpool)
Date:
22 April 2023
Marine AFC
0
FT
The Marine Travel Arena
Northern Premier League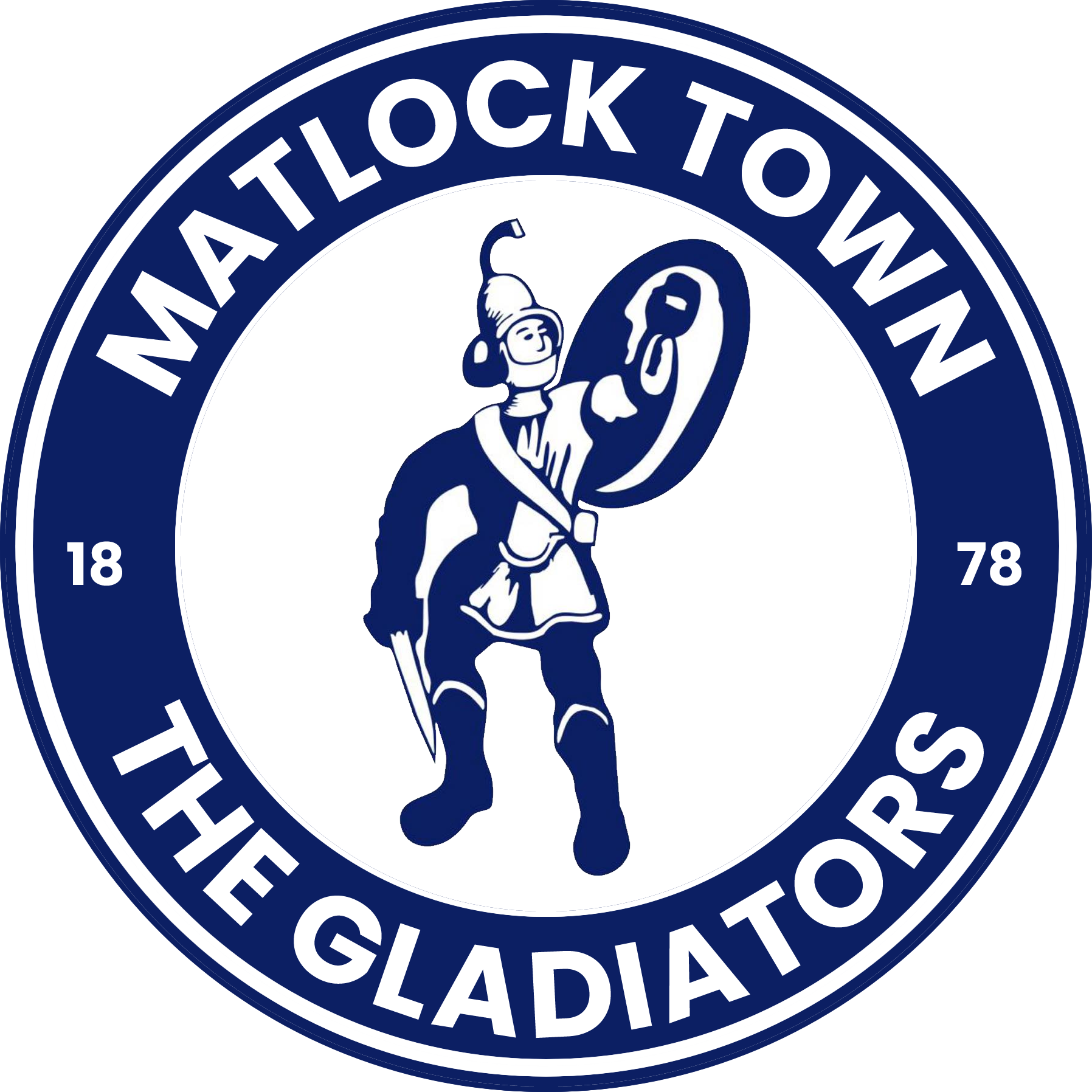 Matlock Town FC
1
Match Report
MARINE 0-1 MATLOCK TOWN
Matlock defied all the odds to qualify for the end of season play-offs with a hard earned final day victory at Marine.
Jamie Sharman's first league goal for Matlock, and only his second for the Gladiators proved to be decisive as 150 Matlock fans celebrated on the Merseyside coast with results elsewhere working in their favour.
Warrington Town, who they will meet in Tuesday night's semi final play-off at Cantilever Park, accounted for Hyde United, while dramatically relegated Nantwich Town came from behind to beat Radcliffe so the Gladiators eventually clinched that all important fifth place with a two point cushion.
Ethan Cartwright was suspended so Dan Bradley moved back into midfield with captain Adam Yates being recalled to central defence to play alongside Ioan Evans who sported a protective bandage following his head injury against Bamber Bridge seven days earlier. Archie White replaced Alex Duhameau to attack the hosts down the left flank.
It was Marine who initially made the better start with the Gladiators having to defend well in the opening minutes as Sharman did well to head away a teasing cross from the overlapping full back Kyle Hayde. It was the first of two corners that Matlock had to face but as they were all game, Matlock were on the money when they were asked to defend.
The visitors first sight of goal saw Bradley shoot high and wide before Marine had to make an early change losing defender Mark Howarth with Lucas Weir taking his place.
It had been a game of few chances so far but Matlock put together a promising move after 20 minutes ending with Reece Styche looking to send John Johnston clear but Josh Wardle's crucial interception was enough to thwart the Gladiators.
Sharman was shown a yellow card on 25 minutes for fouling Akiel Raffie as Marine attempted to break down the left, Saul Deeney taking the free kick confidently but there was a sniff of a chance for the Mariners almost immediately from a rare loose pass by Alex Byrne. Ben Hodkinson though failed to make hay as his twenty yarder drifted comfortably wide.
Bradley again shot off target before Matlock had a good spell of pressure towards the interval. A quickly taken free kick by Styche on 38 minutes nearly gave Styche an opportunity which was followed by a gentle Sharman header being easily fielded by home custodian Bayleigh Passant.
But the best chance fell to young White on 41 minutes who latched on to some poor play at the back by Marine to fire against the foot of the post in a one on one with Passant. Styche shot high and wide seconds before the half time whistle but there were signs that Matlock could find a way through the home back line.
At half time Matlock were out of the play-offs with Radliffe leading at Nantwich so a heart stopping forty five minutes would follow.
There was a delay while James Hardy received treatment before Matlock could have fallen behind, Raffie miscuing his finish to push his shot wide from twelve yards, Jordan Lussey having created the chance with a break and a cross from the right.
White was again lively for Matlock and Hsyde showed his frustration at being unable to get the better of the youngster by being booked for pushing him over.
Then came the vital moment for Matlock who had just found out that Nantwich had equalised against Radcliffe. From a corner on the left, SHARMAN rose to plant a header beyond Passant to send the visiting fans into raptures.
Deeney did well to push away an awkward low cross from Raffie, Evans being on hand to complete the clearance before White was replaced by Duhameau for the final twenty minutes. Demidh then went down holding his ankle twice and Brad Abbott was on to reinforce the midfield with a quarter of an hour remaining. By this point there was more happiness in the Matlock crowd as news filtered through that Nantwich were now beating Radcliffe so the odds had swung very much in the Gladiators favour with Hyde still two goals down at Warrington.
Matlock still had some defending to do, Hardy cutting in to see his effort deflected for a corner from which skipper Josh Wardle got his head to but Deeney was able to gather easily.
As their fans urged them on, Matlock looked in no mood to throw away the chance that manager Martin Carruthers had always believed was there for them. A tremendous work rate for the closing stages proved to be the key, restricting the hosts to a half chance when Hardy snatched at a cross from Raffie to knock comfortably wide.
After what seemed an eternity for the Matlock fans, the referee blew the final whistle and the cheers could probably have been heard in neighbouring Southport as the Matlock players and fans hugged one another.
They again will go into the Warrington game as underdogs, but they go into it in good form, unbeaten in six with five wins in that sequence.
MARINE: 1 Bayleigh Passant 2 Kyle Hayde (17 Regan Rhodes 86) 3 Sean Smith 4 Mark Howarth (14 Lucas Weir 14) 5 Josh Wardle 6 Will Johnson 7 Ben Hodkinson (15 Max Davidson 68) 8 Charley Doyle 9 Joe Hardy 10 Jordan Lussey 11 Akiel Raffie Other subs: 12 Joel Stringer 13 Germano Mendes
MATLOCK TOWN: 1 Saul Deeney 2 Jamie Sharman 3 Robbie McNicholas 4 Archie White (12 Alex Duhameau 70) 5 Ioan Evans 6 Dan Bradley 7 Alex Byrne 8 Adam Yates 9 Reece styche 10 Karl Demidh (14 Brad Abbott 75) 11 John Johnston Other subs: 15 Brad Wells 16 Harry Wakefield 19 Jim Pollard
REFEREE: Nathaniel Cox (Blackpool) ATTENDANCE: 1606 BEST GLADIATOR: Jamie Sharman