Stewart is Gladiators number one for upcoming campaign
Posted on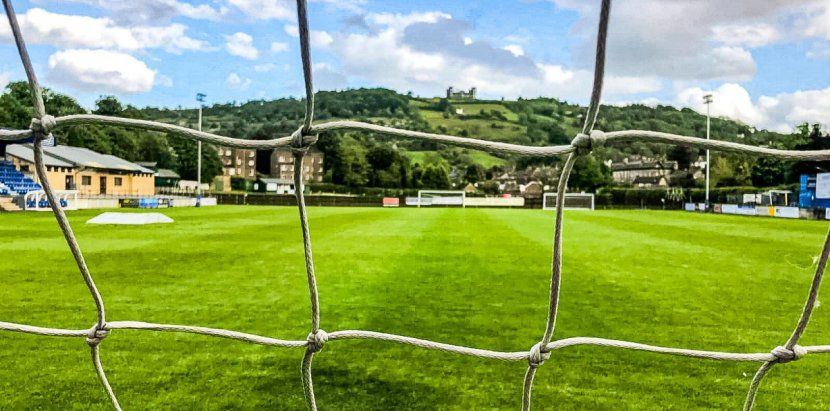 Jon Stewart will be Matlock Town's goalkeeper for the coming campaign.
Manager Paul Phillips confirmed the news that Stewart had accepted terms and signed on the dotted line to commence a second season with the Gladiators.
"It's great news, for me he's the best goalkeeper in this league" said Phillips.
"It was a frustrating time for him last season with his injury problems and other issues but he's back and he's raring to go. He's got a big presence, both on the field and in the dressing room and if you're going to do well in the league, he's the type of character you need in your side."
Stewart joined Matlock this time last year and did not concede a goal from open play in his first five competitive matches. He was then ruled out for a month prior to Christmas for a breach of FA betting regulations and after returning to the side for a few games, he suffered a serious injury at work, which combined with the outbreak of Covid-19, ended his season prematurely.
"He's our number one although we'll bring another goalkeeper in on a dual registration basis to keep Jon on his toes" Phillips confirmed.
----------------------------------------------
"The big man's back" said goalkeeper Jon Stewart after the announcement that he will be Matlock Town's goalkeeper next season.
Stewart (31) will begin his second season with the Gladiators and he hopes it will be a better one all round, for him personally and the club, than the 2019/20 campaign.
Stewart joined Matlock after being released by Gainsborough Trinity, having previously played against Matlock for Shaw Lane. Earlier in his career he was with current Bournemouth manager Eddie Howe at both the Vitality Stadium and Burnley.
He soon became popular with the Gladiators support, not conceding a goal from open play in his opening five league games, Matlock winning the first four and leading the table in the early stages of the season.
But things for both Stewart and Matlock turned sour. League wins were hard to come by, the Gladiators winning only four more times in the league from the end of August until the Covid 19 outbreak took a grip on the nation and the NPL season was declared null and void.
For Stewart it was a particularly bleak time. He was banned by the FA for an alleged breach of betting regulations shortly before Christmas and after returning to the side, the whole club was rocked by the tragic death of midfielder Jordan Sinnott who had been attacked on a night out in Retford in January.
Then shortly afterwards Stewart was seriously injured after being electrocuted in an accident at work, he was lucky to still be alive.
"We all had high hopes when I first signed, I was happy to sign for a good club who I'd enjoyed playing against previously" Stewart explained.
"It all started so well, we were winning games and everything looked fine but then issues from my past caught up with me, it took me by surprise. I received the ban but the club backed me one hundred per cent which I really appreciate. Then came Jordan's death which knocked the stuffing out of a lot of the players."
For Stewart Sinnott's death was a case of deja-vu, for in 2017/18 he was at Shaw Lane when the Ducks' midfielder collapsed and died on the pitch during a League Cup tie at Brighouse.
Within another couple of weeks Stewart ended up in hospital and fortunate to be still alive.
"I was at work and on a windy and rainy day I was electrocuted as 11,000 volts went through my body. The doctors said they couldn't believe I was still here, nor could my family. I was in hospital for just under a week and had to take things easy for a good while after that. Again the club stood by me from day one which I'll never forget."
If ever anyone deserved a change of fortune then it's Stewart and in April came some welcome news with the birth of his second son and a brother for his eleven year old son.
"It'd been an emotional six or seven months, an emotional rollercoaster but now we can see light at the end of the tunnel and we can look to the future" said Stewart.
"We're looking towards having a really good season and I was really happy to sign for the club who've been brilliant with me. From the five or six sessions we've done so far, we look to have a really competitive side and I expect us to be up there challenging. I want to thank everyone at the club for backing me and also the fans for sticking by me and I can assure everyone that we'll all play aggressively and want to win every single game we play. Everyone that's here is here to play for the right reasons, myself included. The big man's back!"
Ian Richardson