Home // First Team Fixtures & Results
Matlock Town FC vs South Shields
Attendance:
604
Referee:
Luke Watson (Barnsley)
Date:
07 March 2023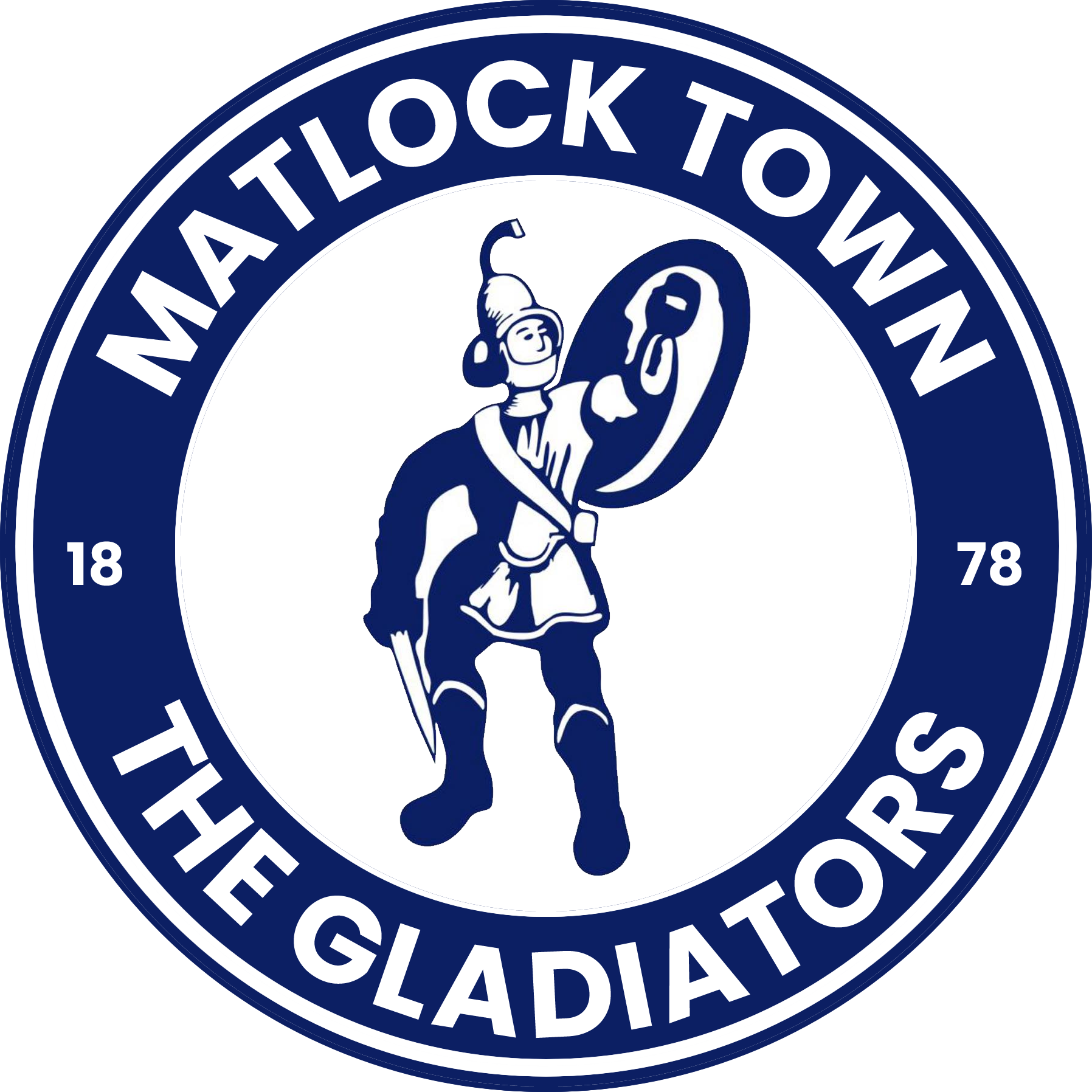 Matlock Town FC
0
FT
The Proctor Cars Stadium
Northern Premier League
South Shields
0
Match Report
MATLOCK TOWN 0-0 SOUTH SHIELDS
The Gladiators and clear league leaders and title favourites deservedly could not be separated in a tense but nevertheless entertaining ninety minutes, despite the blank scoresheet.
The outcome remained in doubt from first to last with a changed Matlock side putting in a fine battling performance.
With midfielders Dan Bradley and Connor Dimaio on the injured list after Saturday's draw with Ashton and striker Karl Demidh pulling out late on with an ankle injury but fit enough for a late cameo from the bench, Robbie McNicholas was given a start and there was a surprise inclusion in Brad Abbott who broke a leg on Boxing Day. Jorome Slew also started in attack.
Matlock were also without manager Martin Carruthers, in bed at home with flu, so assistant Wayne Hallcro was in charge.
Shields managed by ace goalscorer Kevin Phillips therefore went into the game as favourites but the hosts had other ideas.
Slew headed a cross from Johnston at goalkeeper Myles Boney in the 2nd minute and although Shields then had more of the ball and the forward moves for long periods of the first half, the Matlock defence was in defiant mood with captain Adam Yates again outstanding. It took until the 17th minute for Shields to fashion a chance and then it was from distance with Darius Osei firing over the bar from twenty eight yards.
Abbott became stronger as the match wore on and turned in a fantastic midfield performance that saw him edge star rating narrowly ahead of Yates and Saul Deeney whose excellent goalkeeping ensured Matlock's point and clean sheet.
Shortly after the Osei chance a purposeful run from Slew saw the ball break to Abbott whose fierce strike was blocked by the visiting defence.
Yates would then superbly charge down another Osei shot and then produce the tackle of the game to stop Blair Adams breaking from deep.
A highly competitive contest produced two bookings in the 38th minute as Alex Byrne and Dylan Motley-Henry clashed near the Matlock corner flag.
So half time arrived with the Gladiators more than holding their own against full time opponents.
Another flare up in the 52nd minute saw McNicholas yellow carded but it was not long before Byrne was clattered twenty yards out by Martin Woods, his free kick dipping to sneak over the bar by a matter of inches.
Shields responded seven minutes later with Adams seemingly getting in behind the Gladiators in an attack down the left but Deeney was off his line in a flash to make a vital and brave stop.
But Matlock came the closest yet to hit the woodwork twice in the same phase of play .
Byrne's corner from the right created a hectic scramble, the ball looping up on to the bar and down for Jordan Hunter to force the ball away for a corner on the opposite side. Byrne again took the flag kick, his low delivery striking the post before bouncing harmlessly out.
Lewis Alessandra went into Mr Watson's notebook for a poor challenge on Ethan Cartwright which again brought a coming together of players from both sides.
Matlock had Shields rattled and the introduction of the more agile Demidh would give the Mariners something extra to think about, Phillips reacted by replacing Alessandra and Robert Briggs with the fresh legs of Michael Woods and Ade Shokunbi, clearly hoping that the expected superior fitness of the full time team would pay dividends towards the end.
They nearly broke Matlock hearts with Motley-Henry squeezing through a series of challenges only for Deeney to brilliantly keep out the final shot.
Osei, who had been superbly marshalled by Yates, was withdrawn with fifteen minutes remaining, the striker having endured a night of famine on a freezing March night.
A quickly taken free kick in midfield nearly released Slew through the centre as both sides knew now that a mistake could prove to be fatal.
Deeney pushed away a Mackenzie Heaney free kick as the match entered the 86th minute, play switching in the blink of an eye to the opposite end as a low strike from Byrne was gathered low to his right by Boney,
Heaney saw another effort deflected on to the top of the net and Matlock again stood in defiance as the corner came in. An exhausted Abbott came off to great applause as Saul Milovanovic replaced him, Alex Duhumeau then also came on for Slew as the seconds ticked away.
As scoreless draws go this was a very good one and Matlock showed resilience in the face of adversity to be worthy of their point.
MATLOCK TOWN: 1 Saul Deeney 2 Jamie Sharman 3 Ethan Cartwright 4 Brad Abbott (16 Saul Milovanovic 89) 5 Adam Yates 6 Ioan Evans 7 Alex Byrne 8 Robbie McNicholas 9 Harry Wakefield (12 Karl Demidh 66) 10 Jorome Slew (15 Alex Duhumeau 90) 11 John Johnston Other subs: 14 Jaz Goundry 17 Jim Pollard
SOUTH SHIELDS: 1 Myles Boney 2 Jordan Hunter 3 Blair Adams 4 Gary Liddle 5 Tom Broadbent 6 Martin Smith 7 Mackenzie Heaney 8 Robert Briggs (15 Michael Woods 67) 9 Darius Osei (12 Jordy Mongoy 75) 10 Lewis Alessandro (16 Ade Shukunbi 67) 11 Dylan Motley-Henry Other subs: 14 Jao Gomez-Carrington 17 Josh Doherty
REFEREE: Luke Watson (Barnsley) ATTENDANCE: 604 BEST GLADIATOR: Brad Abbott