Home // First Team Fixtures & Results
Stafford Rangers vs Matlock Town FC
Attendance:
743
Referee:
Jonathan Wyatt (Manchester)
Date:
28 August 2023
Stafford Rangers
2
FT
Marston Road
Northern Premier League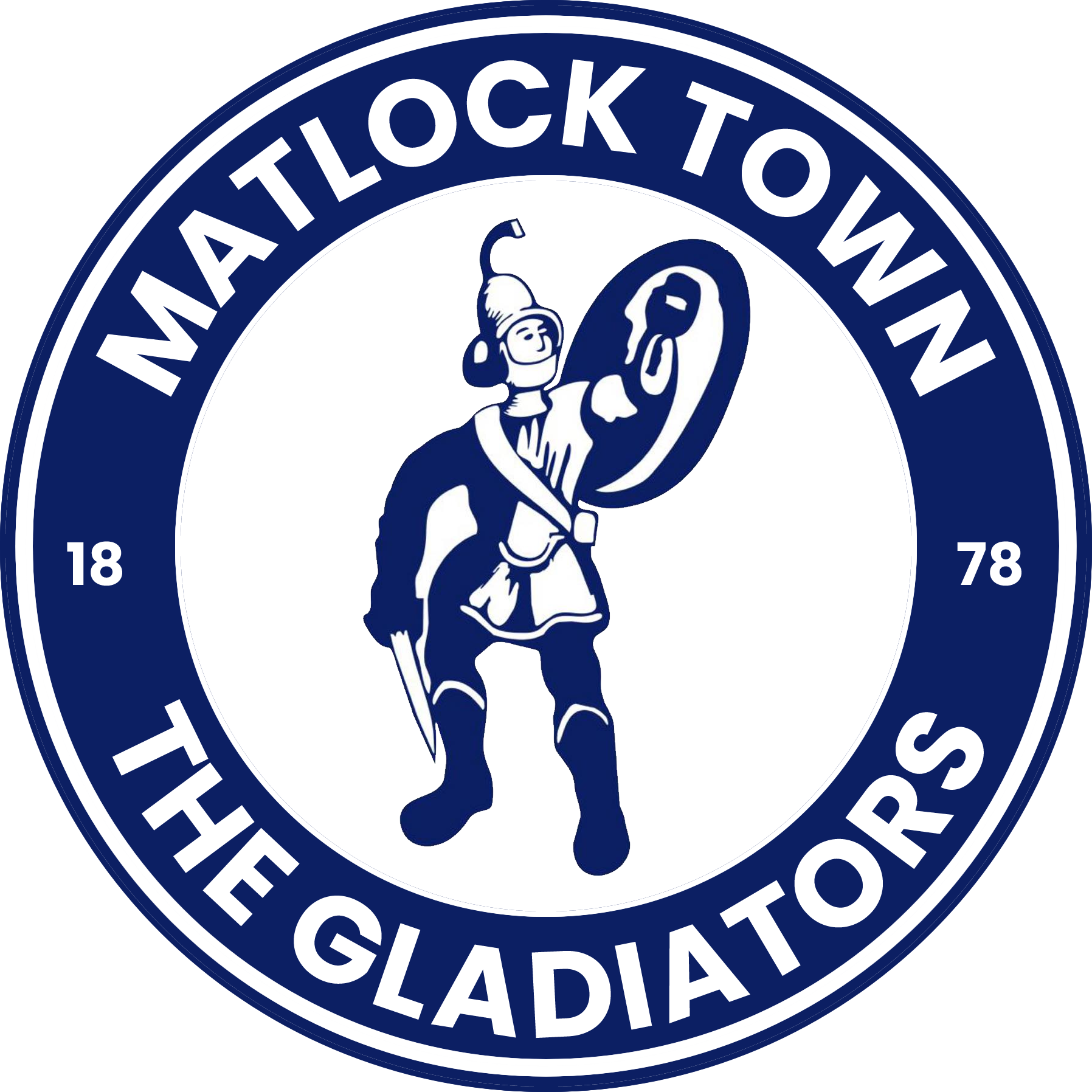 Matlock Town FC
4
Match Report
STAFFORD RANGERS 2-4 MATLOCK TOWN.
Jonny Margetts took home the match ball as a patched up Matlock defied adversity to secure their first away win of the season at Marston Road on Monday afternoon.
The Gladiators were struggling to put a side out and John Johnston and Harry Wakefield started when in normal circumstances their injuries would have kept them out. Wakefield's battling performance was rewarded when he struck the Gladiators' final goal of the contest. Only four substitutes were named with Nat Crofts and Robbie McNicholas on the injured list and Reece Styche on international duty with Gibraltar.
The game hinged on a red card brandished by Manchester referee Jonathan Wyatt to Rangers goalkeeper Cameron Belford in the 42nd minute when he was punished for a poor challenge on Wakefield. To make matters worse for the hosts, the official pointed to the spot and MARGETTS was his usual clinical self with the penalty arrowing his finish low into the corner giving midfielder Jake Moult who donned the number one shirt no chance whatsoever of being a hero.
Matlock needed a good start and that's just what they got with Johnston and Wakefield having shots which hit home defenders but the ball broke conveniently for MARGETTS to sweep Matlock into a 4th minute lead.
To their credit Rangers responded positively, Aaron Braithwaite and Kaiman Anderson having efforts excellently charged down by the Matlock defenders. Anderson was having joy on the right although the assistant missed at least three straightforward offside decisions, one of which led to a Rangers leveller. Ewan Catt looked to have mopped up the danger but was caught napping leading to a trip on Sam Bird. ANDERSON confidently tucked the spot kick home on 17 minutes. Matlock had it all to do again. Rangers then had the upper hand with Matlock having to defend desperately with all hands needed at the pump to keep the hosts out. A Braithwaite strike looped up off Jamie Sharman and over the bar while Anderson shot high and wide and after Kemy Augustien was robbed in midfield, Braithwaite burst through to shoot inches past the post.
But the best Rangers chance was on the half hour mark when Anderson crossed from the right finding Niah Payne but Saul Deeney made himself huge to pull off a cracking save to keep Town level. Augustien then defended well to halt another home attack after Margetts went down but the referee ruling the challenge on him to be fair.
With Matlock seemingly quite content to reach half time level the game changed and the Belford dismissal and the conversion of penalty by Margetts put a different slant on proceedings.
Life got distinctly better for the Gladiators as half time substitute Olly Clark put MARGETTS clean through down the centre and the hat-trick was complete with a delicate and clinical lob over Moult to double the visitors lead with only two minutes of the new half played.
Only a fantastic challenge by Andrew Burns stopped Wakefield after Johnston had slid him clear.
Stafford though would not lie down and a terrific thirty five yarder from Joe Willis flashed narrowly too high. Matlock thought they had scored again when Margetts converted an excellent low cross from Joe West in the 59th minute but the assistant had his flag raised to curb further celebrations amongst the visiting support who were again in full voice from start to finish.
Rangers had a further let off eight minutes later when from a neat corner routine, Johnston's low ball was deflected on to his own bar by Ethan Stewart.
But there would be no reprieve with a quarter of an hour left, WAKEFIELD taking on the home defence on the edge of the box, his low sixteen yard shot finding the corner past a possibly unsighted Moult.
The hosts kept going spraying about some fine crossfield passes to engineer an opening with Matlock staying firm. There was a glimmer of hope for Rangers when at the fourth attempt WILLIS managed to fire past Deeney from close range with nine minutes left. Willis fired at Deeney but Matlock then sensibly kept the ball in the corners to use up time and shatter any aspirations the men in black and white stripes may have had of a sensational fightback.
There were a lot of tired limbs at the end with key personnel missing and some playing through the pain barrier. Few people would have predicted this scoreline given the problems Matlock endured pre match, everyone in a yellow shirt on Monday deserves the utmost credit.
Next is the FA Cup tie at Gainsborough on Saturday. Time to rest up and recharge the batteries for what will undoubtedly be another tough battle.
STAFFORD RANGERS: 1 Cameron Belford 2 Sam Bird 3 Joe Dunne (16 Ethan Morgan 70) 4 Alex Ray-Harvey (12 Andrew Burns 43) 5 Ethan Stewart 6 Jake Moult 7 Kaiman Anderson 8 Aaron Braithwaite 9 Nathan Blissett 10 Joe Willis 11 Niah Payne (15 Benjamin Woods 77) Other subs: 14 Jay Fors 17 Rory Roberts
MATLOCK TOWN: 1 Saul Deeney 2 George Wilkinson 3 Joe West 4 Kemy Augustien (15 Olly Clark 46) 5 Ioan Evans 6 Jamie Sharman 7 John Johnston (14 Mason Bridden 84) 8 Andrew Wright 9 Harry Wakefield 10 Jonny Margetts 11 Ewan Catt (12 Karl Demidh 63) Other sub: 19 Myles Wright
REFEREE: Jonathan Wyatt (Manchester) ATTENDANCE: 743 BEST GLADIATOR: Jonny Margetts